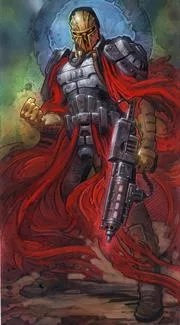 Mandalore the Ultimate, or 
Te Ani'la Mand'alor
 in Mando'a, led the Mandalorians during the Mandalorian Wars. One of the last Taung to claim the Mandalore title, and known to some as the Great Shadow Father, he regrouped the Mandalorian forces into the Mandalorian Neo-Crusaders and slowly began to conquer fringe worlds that had been left defenseless in the wake of the Great Sith War. Mandalore took full advantage of the Galactic Republic's halfhearted efforts to oppose his aggression and personally led his forces as they invaded Republic territory. Under his command, the Neo-Crusaders nearly defeated the Republic during the Mandalorian Wars, and it was only through the leadership of the Jedi Knights Revan and Malak that the tide of the war was ultimately turned against Mandalore. Revan killed Mandalore in hand-to-hand combat near the end of the war.
Ad blocker interference detected!
Wikia is a free-to-use site that makes money from advertising. We have a modified experience for viewers using ad blockers

Wikia is not accessible if you've made further modifications. Remove the custom ad blocker rule(s) and the page will load as expected.