Bardan Jusik, later known as Bardan Skirata, and even later Gotab, was a Human male Jedi Padawan who served the Jedi Order as the apprentice of Master Arligan Zey during the Republic Classic era. He was also a Commander at the time of the Clone Wars and aided in briefing clone commandos before a mission. He was against the creation of the Grand Army of the Republic and even addressed his negative ideas to the Jedi Council. He was later promoted to Jedi Knight and became a General in the GAR. He later resigned from the Order to join the Mandalorians, saying that he couldn't fight for a Council that approved the slave labor that was the GAR.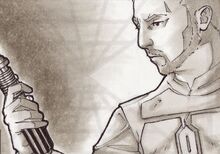 Ad blocker interference detected!
Wikia is a free-to-use site that makes money from advertising. We have a modified experience for viewers using ad blockers

Wikia is not accessible if you've made further modifications. Remove the custom ad blocker rule(s) and the page will load as expected.